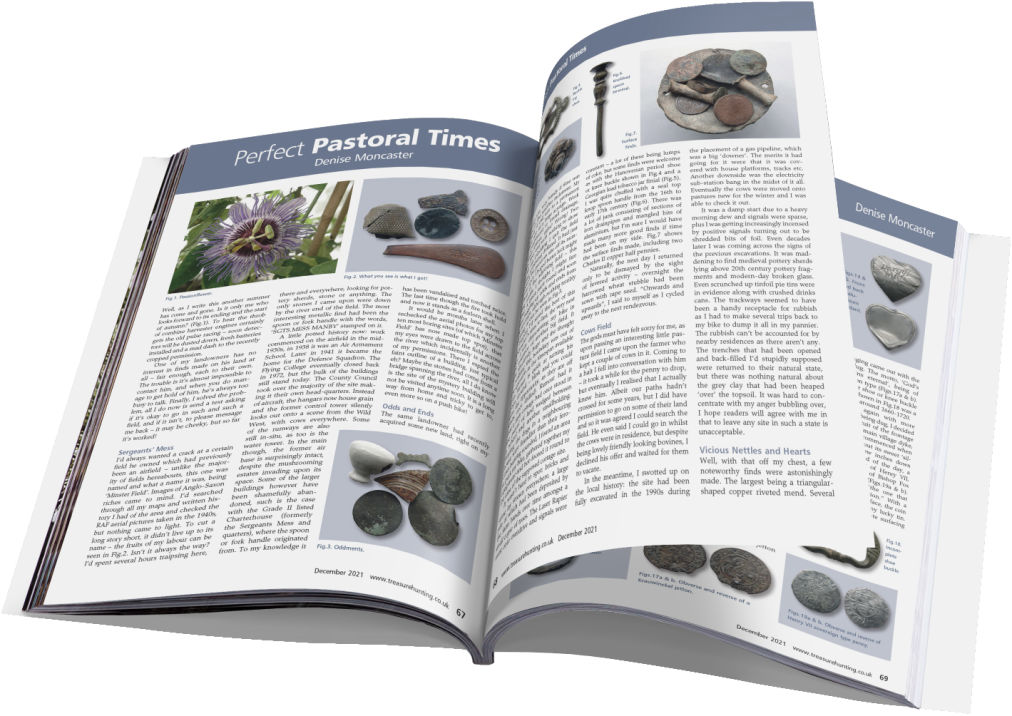 From Howling Wilderness to Field of Dreams Neil Atkin reflects
on his metal detecting career over the decades, from the Peak District to theLincolnshire fields.
A Sunday to Remember Adam Smith and his wife Wendy make some great finds on their Essex permission.
Perfect Pastoral Times Denise Moncaster revisits some of her 'top-ten most boring fields', with surprising results.
Death of a Detectorist's Site Peter McCauley mourns the loss of his
Devon site to housing development and looks at some of the items he has found there over the years.
Celtic Coin Values Details and sale prices of beautiful Celtic coins sold recently by Chris Rudd Auctions.
Researching Balls and Buttons Ron Bennett makes a couple of finds that lead him to some fascinating research.
Auction Round-Up A selection of lots sold at TimeLine Auctions'
recent sale

News and Views A round-up of some of the news and stories from the world of metal detecting, including a report from the 2021 Detectival Rally and a fabulous selection of amazing gold coins and artefacts.
Reader Finds A showcase of some of our readers' recent finds.
More Finds from the Manor David Stuckey continues to make some
interesting finds from his Georgian Manor estate permission.
The Golden Book Buffy Winship-Bailey unearths an absolutely stunning artefact in the shape of a tiny gold book.
Making My Heart Sing Claire Giles discovers that the wonderful hobby of metal detecting gives her everything she has been looking for.
A Trio of Permissions One thing leads to another for Barrie Hardwick, as he gains three new sites to search in quick succession.
Gary Blackwell Interview Adrian Gayler talks to Gary about all things XP and takes a look behind the scenes at the XP factory.


Our Books
We also publish over 50 books specialising in the hobby of metal detecting, for both those new and experienced to the hobby.

All orders post free in the UK we offer worldwide shipping as well
This fantastic A4 Hardback book is a must have for anyone trying to identify metal detecting finds.
The British Museum's Portable Antiquities Scheme
An illustrated guide to metal detecting and archaeological finds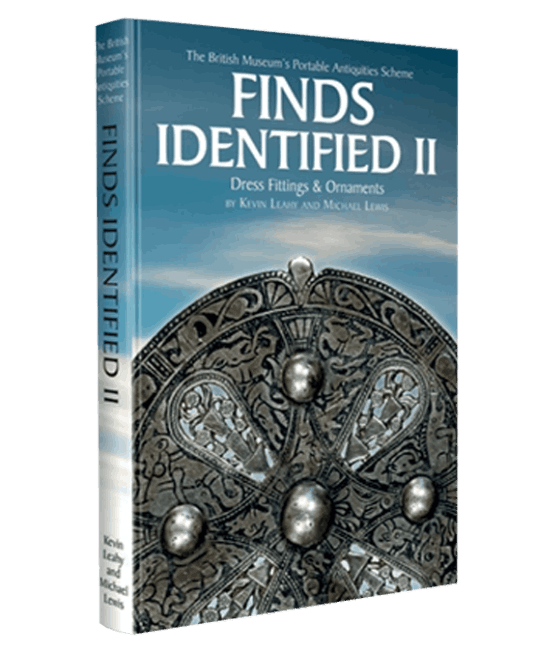 The British Museum's Portable Antiquities Scheme
FINDS IDENTIFIED II – Dress Fittings & Ornaments
Spink Coins of England and the United Kingdom 57th Edition 2022
(Pre decimal volume - Hardback)


The same format as previous editions of Benet's but is purely focused on the Medieval period.